R134A Freon Refrigerant Gas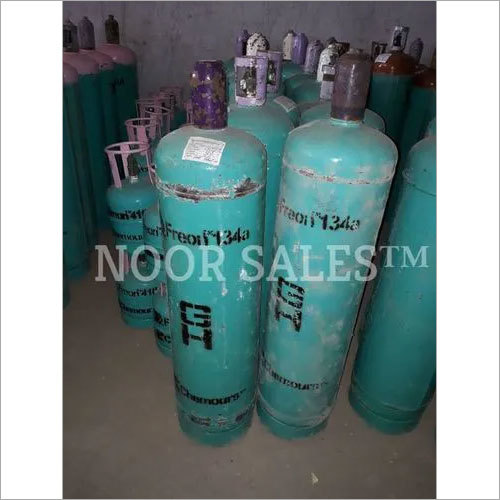 R134A Freon Refrigerant Gas
Price And Quantity
Kilograms/Kilograms

745 INR
Product Specifications
666.1 kpa

1,206 Kilogram per cubic meter (kg/m3)
Car AC Gas & Freezing Apploications

62 Kilograms (kg)
Product Description
R134A Freon Refrigerant Gas is a non-flammable and safe to use compound which is chemically known as 1,1,1,2 Tetrafluoroethane. The molecular mass of this refrigerant element is 102.3 grams per mol with a boiling point of -26.1 degree Celsius at a pressure of 1 atm. It is highly popular and demanding due to its zero ozone deletion potential and global warming potential of 1300. R134A Freon Refrigerant Gas can be used in various machines which includes automotive air conditioning, heat pumps, chillers and commercial cooling.
Details:

Non-ozone depleting refrigerant.
Efficient refrigerant in various air conditioning and medium temperature refrigerant applications.
One of the components of fluoro refrigerant blends (407C,404A).
Properties:
ASHRAE safety classification: A1-non-toxic and non-flammable
GWP: 1430
Recommended lubricant: POE or PAG (auto)
Applications:
Air condition: automotive air conditioning, stationary air conditioning (large size chillers, air conditioner).
Medium temperature refrigeration: commercial refrigeration, food processing and storage, industrial refrigeration, industrial refrigeration, transport refrigeration.
High temperature heat Pumps.
Performance:
Fluoro 134a provides good energy efficiency to the systems even at high condensing temperatures.
Lubrications:
Polyolester (POE) or polyalkylene glycol (PAG - only for auto A/C) lubricants must be used with Fluoro 134a since it is not miscible with mineral oil or alkylbenzene lubricants. POE or PAG oil absorb moisture quickly when left exposed to the atmosphere. Handle them carefully and avoid prolonged exposure to air.
Charging:
Charging with Fluoro 134a can be done either as a vapor or a liquid. End - users should check with their equipment manufacturer's guidelines for specific charging instructions.
Deliveries:
Fluoro R134a can be delivered in various packaging:

Bulk ISO container(20 tons) or ton-tank(825kg).
Disposable cylinders 13.6 kg each (for exports only).
62 kg & 10 kg cylinders.
Disposable can 450 & 340 gm.
Product Details
| | |
| --- | --- |
| Minimum Order Quantity | 62 Kilogram |
| Brand | Freon |
| Specific Name | R134A |
| Packaging Size | 10 to 62 Kg |
| Usage/Application | Air Conditioning Applications as well as Car AC |
| Material | Refrigerant Gas |
| Boiling Point | -26.1 |
| Critical Temperature | 122 |
"We Are Mainly Deal In Andhra Pradesh, Chhattisgarh, Goa, Gujarat, Karnataka, Kerala, Madhya Pradesh, Maharashtra, Rajasthan, Tamil Nadu, Telangana"
Trade Information
Gujarat, Goa, Rajasthan, Chhattisgarh, Tamil Nadu, Telangana, Karnataka, Andhra Pradesh, Madhya Pradesh, Kerala

CERTIFIED DEALER OF FREON